Isn't unlimited, disruption-free streaming just the best? There's nothing like a movie streaming session, binging your favorite shows, or playing your most loved music without interruption. Sometimes it can be just what we need to improve our day. In fact, in 2022,the global average of streaming online videos is 19 hours a week. It's safe to say we are a society that loves to stream! And with more and more streaming services developing and growing, unfortunately, intrusive pop-up ads will appear more often, disrupting your once-was ad-free service. Luckily, there are some tools and tips you can use to block pop-ups from movie sites. Here's how you can have a pop-up free streaming experience and enjoy your favorite movies and TV shows without disruption.
What are pop-ups?
You probably have come across some form of a pop-up today. These online distractions are so common that you will come across 4,000 to 10,000 ads a day. Pop-up ads serve as a type of interactive online advertising tool that can be triggered by just about anything. Whether you're visiting a page, moving your mouse to exit a page, or hovering your mouse over the ad, can all trigger a pop-up to appear.
There are a few types of pop-up ads; some are more noticeable and some are more hidden from plain sight. Pop-unders and overlays are mischievous types of pop-up ads. They tend to hide and linger behind or on the sides of your current open browser and appear only after every window and tab has been closed. Overlay pop-ups typically appear on the top or bottom of a page or video you are viewing. They're easy to navigate and close but they still can take away from your overall experience. Pop-unders appear behind the windows and tabs you are visiting, making them more sneaky to notice. Regardless of where they appear, they affect your online streaming experience by reducing play speed and causing your browser to take longer to load. Not to worry, because there are tools in place to help navigate how to block pop-ups on streaming sites. Follow along to learn about it.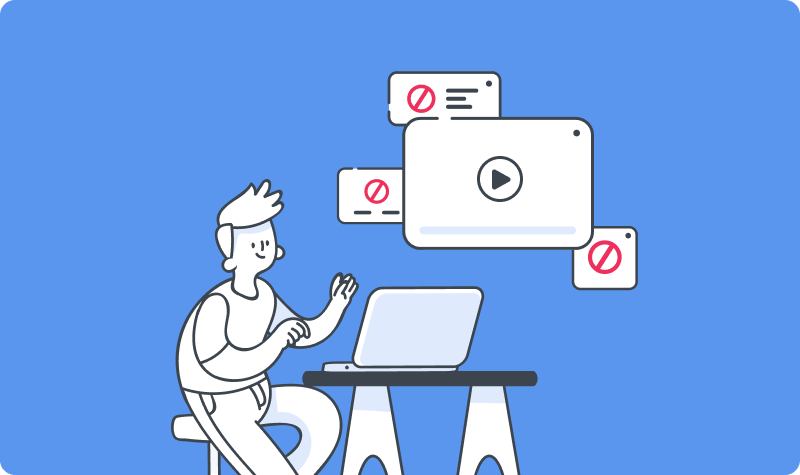 How to prevent pop-up ads while streaming movies online
Utilize browser settings
A helpful way to block pop-ups on streaming sites is by enabling the blocking pop-up option in your browser's settings. Follow the steps below to activate this feature in Chrome, Safari, and Microsoft Edge:

Chrome
Sign into Chrome
Click the three dots on the top right corner of your browser window
Select Settings
Click on Privacy and Security on the left-hand side of the page
Select Site Settings
Select Pop-ups and Redirects
Enable Don't allow sites to send pop-ups or use redirects
Safari
Open your Safari browser and visit the Safari website
Click Safari on the top left corner of your screen in the toolbar
In the drop-down menu select Preferences
General Settings will appear, select Websites
Scroll down on the left-hand side and click on Pop-up windows
All the websites that are currently open will appear
Select the pop-up menu for the Safari website Block
Microsoft Edge
Open your MS Edge browser
Go to the three dots on the top right corner of your browser
Select Settings
Find and click on Cookies and Site Permissions
Visit All Permissions and select Pop-ups and Redirects
Enable the Block toggle
Utilizing browser settings to block pop-ups from movie sites is effective for removing some of the pop-ups but if you would like to eliminate all ad disruptions while streaming online, continue reading to learn the best tips.
Installing a pop-up blocker
The best way to remove pop-up ads is by installing a pop-up blocker onto your device. These blockers are very effective because their entire role is removing ads from your browser, thus they tend to work better than simply utilizing browser settings. Pop-up blockers close the pop-up as soon as it's loaded and shown on your browser and they disable the command that triggers the site's pop-up window.
A popular and trusted pop-up blocker is Poper Blocker. It blocks not only pop-up ads but pop-unders and overlays, as well as removing other ads from appearing and disrupting your digital experience. It is very beneficial to use a tool like Poper blocker because not only will it remove pop-ups while you stream online, but it will block all ads and pop-ups that you encounter anywhere on the internet. Whether you're watching videos on Amazon Prime, scrolling on social media, or browsing any website, Popper Blocker has your back.
To download Poper onto your Chrome browser, click "Add to Chrome" in the top right corner of the Poper Blocker Chrome web store page. This will start the installation process which should take no longer than a couple of seconds.
Using Poper Blocker is easy. To start, look for the small puzzle-piece icon on the top right corner of the screen, this is the extension's icon.

If the extensions icon does not appear on your Chrome Browser you can add it by doing the following:

Click the three dots on the right-hand corner of the browser (this is the more icon)
Selecting More Tools in the menu
Selecting Extensions
You will be brought to a page where you can manage your extensions and are able to add Poper Blocker to the extensions bar of your Chrome browser
Once Poper Blocker appears under the extension bar of your Chrome Browser, you can access the pop-up blocking tool for video streaming platforms by following the steps below:
Click on the puzzle piece icon in the top right corner of your browser (this is the extension's icon)
Find and click on the pin on the right side of the Poper Blocker extension
Now the Poper Icon will appear on the top right side of your browser beside the Chrome extensions icon
Click on the Poper Blocker icon
Look for and select Block basic popups and Block advanced popups (overlays)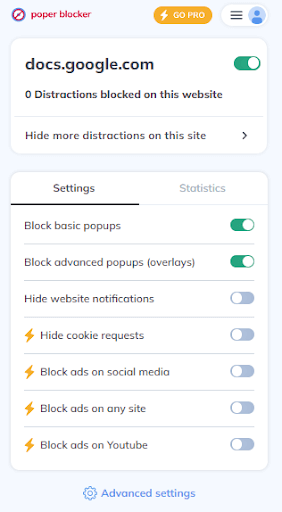 Read about our step-by-step guide on how to navigate Poper and all the benefits it will bring into your life.
2. Deny permission to pop-ups
As we said earlier, pop-ups can be mischievous and sneaky. They can mislead you into accidentally allowing permission to receive future additional pop-ups when you visit certain web pages. For example, when you visit Hayu, you encounter a pop-up for enabling or disabling notifications from Hayu. This might appear to be harmless because you want the latest updates and information about one of your favorite streaming services, but in reality, you are granting permission to pop-up advertisements that appear in the form of notifications. If you allow this, every time you stream on Hayu you will encounter pop-ups that disrupt your video streaming experience. Deny all permissions to pop-ups on streaming websites you use.
3. Use a recommended streaming service
A great way to block pop-ups on movie websites is by using popular and recommended streaming services. There are many free online video streaming services that offer all your favorite shows and movies, but what they don't offer is a pop-up-free experience. For example, Movies123, Putlocker, and Tubi are all free streaming services that have a wide selection but are unreliable and contain many pop-ups. Avoid using these websites, and invest in a quality movie streaming platform. Instead, subscribe to websites like Netflix, Amazon Prime, and Disney+ to get the best experience while watching movies. These platforms are much more reliable and better quality than free websites.
Wrapping up
Everyone loves to relax and stream their favorite shows and movies online, but everyone hates being interrupted by pop-up ads. As we discussed, there are helpful ways to block pop-ups while streaming online. The most effective way is downloading a pop-up blocker onto your browser such as Poper Blocker. Poper Blocker takes care of disruptive pop-ups so you don't have to! Start enjoying your video streaming websites pop-up free with Poper Blocker.
FAQs
How to block pop-ups while streaming online?
You can remove pop-ups from disrupting your online streaming experience by downloading a pop-up blocker. Poper Blocker is a reputable ad blocker extension that has the tools to remove all pop-ups from appearing as you surf the web. One of their features enables you to stream movies online without pop-up disruptions.
How to remove pop-ups from movie websites with an ad blocker?
You can remove pop-ups from movie sites with an ad blocker like Poper Blocker. Poper blocker blocks pop-ups from appearing while you stream movies by enabling the "block basic pop-ups" and "block advanced pop-ups"