We have all become accustomed to unlimited, disruption-free streaming. There's nothing like a streaming session, watching your favorite shows, or listening to your favorite music without interruption. Sometimes it can be just what we need to make a day better. In fact, just in 2020, people around the world spent more than 480 billion hours streaming content. It's safe to say we are a society that loves to stream! And with streaming services, and streamers only growing, unfortunately so will the ads that often disrupt our viewing and time. Here's how you can restore your viewing habits into a way that works best for your viewing experience.
What does online streaming mean?
Let's get into the basics a bit. 'Streaming' is a media technology that instantly delivers video and audio content to your devices that have an active internet connection. It essentially allows us to access content, like movies, TV shows, podcasts, music and more at any time we want, on any device, without regard to the original network's schedule. It puts us back in charge of where and when we want to consume content.
There are plenty of types of different internet streaming technologies and services. Many services provide free access, while others often require some type of paid subscription or other fee – your Netflix's and Hulus of the world. And some provide both free and premium services but the catch with the free accounts is that you will see and/or hear ads.
What are pop-ups?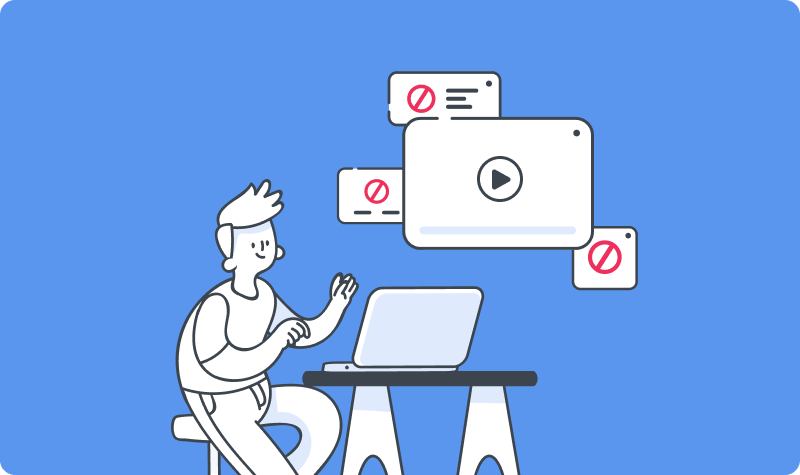 You probably have come across some form of a pop-up today. As an added fact, you will most likely see between 6,000 – 10,000 ads just online, just today. Pop-up ads serve as a type of interactive online advertising tool that can be triggered by just about anything. Whether you're entering a page, or moving your mouse to exit a page, a pop-up can and will appear. And while annoying to us as users, they are often seen as effective since a visitor needs to close them before proceeding with whatever they were doing- ensuring that the message of the pop-up has been viewed.
But the world of pop-up advertising doesn't stop at just pop-ups.

What are pop-unders and overlays?
Pop-unders are a sneakier version of pop-up ads. They tend to hide and linger behind your current open browser window, appearing only after every window and tab has been closed.

Overlay pop-ups typically appear on the top or at the bottom of a page or video you are viewing. They're easy to navigate and close but they still can take away from your overall experience.

All in all, we know that advertisers have to do their job. But we'll also do ours in making sure you have clean browsing experiences in a way that suits you.
How to prevent pop-up ads while streaming online?
The best way to remove pop-up ads is by installing a pop-up blocker on your browser. These blockers work in a few ways. They'll close the pop-up as soon as it's loaded and presented on your browser. Or they'll disable the command that triggers the site's pop-up window.

Take Poper Blocker for example, we'll block not only pop-up ads but pop-unders, overlays, as well as stop other ads from appearing and disrupting your digital experience. And we're not just talking on your computer. Both our desktop extension and mobile App will work to block any and all frustrating pop-ups across any site, any device, any category. Want to learn more about Poper and how to install it hassle-free? We've created a simple step-by-step guide here.