Are you getting irritated by all the ads that pop up while you're watching YouTube videos? YouTube is inundated with ads that can last half an hour or more. They appear at the start, middle, and end of videos, flooding your webpage and impacting your video watching experience. Regardless of how long or short the video is, ads will pop-up numerous times. Not to worry because there are multiple tips and tricks to help you block YouTube ads. If you are a part of the YouTube community, are frustrated with polluting video ads, and also browse YouTube on Google Chrome, this article is perfect for you! Continue reading to learn about how to block YouTube ads on Chrome.
Block YouTube ads with Poper Blocker
A highly recommended tip to stop YouTube ads is by installing an ad blocker extension to your Chrome web browser. Poper Blocker is an amazing ad-blocking extension that is available for Google Chrome. It is a great ad blocker because it is reliable and it does what it is meant to do: block any type of advertisement you do not want to see on websites. Poper Blocker is a strongly recommended choice for blocking ads because not only does it remove ads on YouTube, it improves your browsing experience across all platforms and websites. To have access to the ad-blocking feature for YouTube, you must upgrade to Poper Blocker Pro for just a small fee. Poper blocker will block all ads and pop-ups that you encounter anywhere on the internet. Whether you're watching videos on YouTube, scrolling on social media, or browsing any website, Popper Blocker has your back. You are able to download Poper Blocker for Chrome directly from the Poper Blocker website or through the Chrome web store.

To download Poper onto your chrome browser, click "Add to Chrome" in the top right corner on the Poper Blocker Chrome web store page. This will start the installation process which should take no longer than a couple of seconds.
Using Poper Blocker is easy. To start, look for the small puzzle-piece icon on the top right corner of the screen, this is the extension's icon.

If the extensions icon does not appear on your Chrome Browser you can add it by doing the following:
Click the three dots on the right-hand corner of the browser (this is the more icon)
Selecting More Tools in the menu
Selecting Extensions
You will be brought to a page where you can manage your extensions and are able to add Poper Blocker to the extensions bar of your Chrome browser
Once Poper Blocker appears under the extension bar of your Chrome Browser, you can activate the ad-blocking feature for YouTube by following the steps below:
Click on the puzzle piece icon in the top right corner of your browser (this is the extensions icon)
Find and click on the pin on the right side of the Poper Blocker extension
Now the Poper Icon will appear on the top right side of your browser beside the Chrome extensions icon
Click on the Poper Blocker icon
Look for and select Hide ads on YouTube videos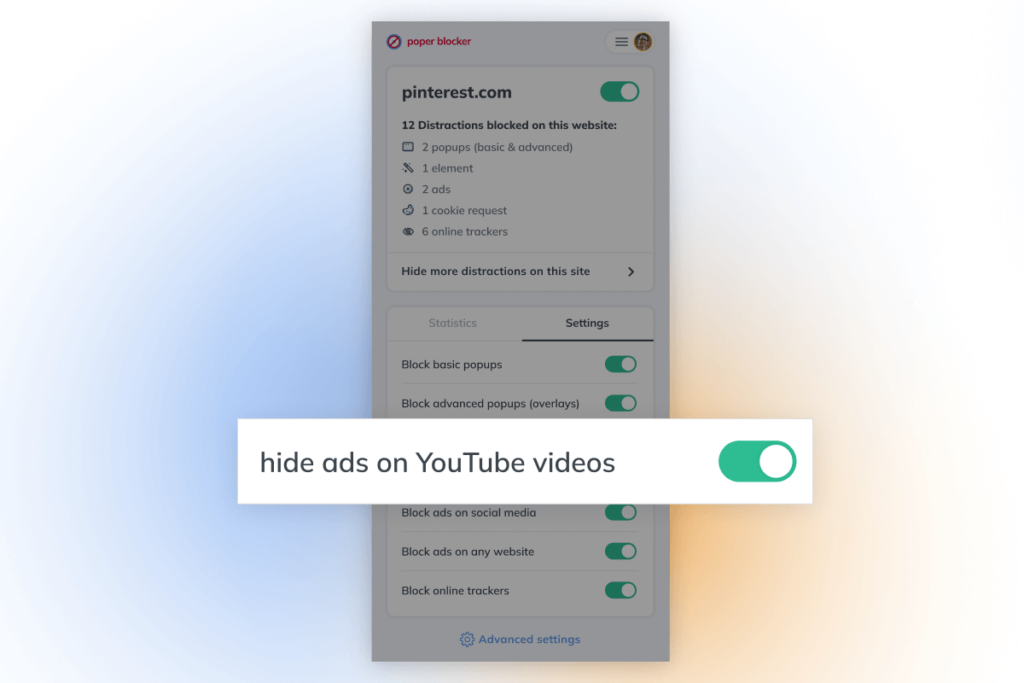 An alternative way to enable blocking ads on YouTube is by visiting the Poper Blocker feature page where you can manage which features you would like to have enabled or disabled. Find and activate the feature that says "Hide ads on YouTube videos" and you will no longer be disrupted by intrusive ads.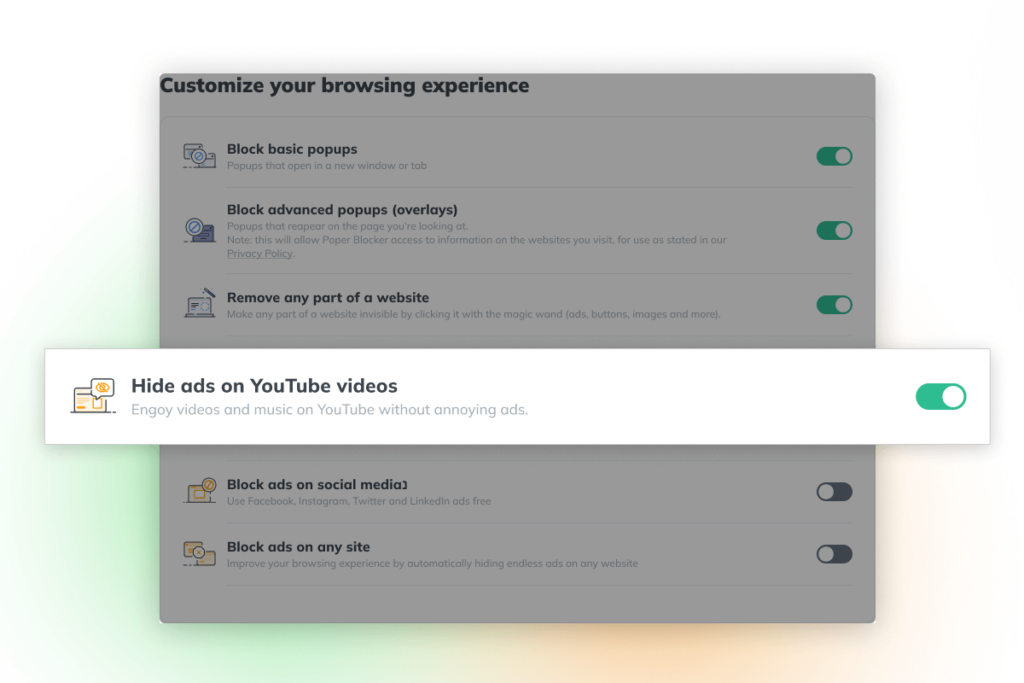 Stopping YouTube ads by paying for YouTube Premium
Another way to block YouTube on Chrome is by upgrading your account to YouTube Premium. A huge perk to YouTube Premium is that it automatically blocks all advertisements so your video-watching experience is no longer interrupted. You can pay an annual fee of $119.99 or a monthly fee of $11.99.
A pro of subscribing to YouTube Premium is that you are supporting creators on the platform. A con of subscribing to YouTube Premium is that its ad-blocking abilities are not as advanced as an ad blocker like Poper Blocker. This is because Youtube Premium is limited to YouTube, whereas Poper Blocker is able to remove all forms of ads from all types of websites – it is a universal ad blocker in the online world. Thus, many people rather use an ad blocker because they cover all the bases, such as pop-up advertisements, as opposed to only blocking YouTube ads.
Read More: Why You Should Use an Ad Blocker
Utilize Chrome's own ad-blocking tool
Another option to consider to remove YouTube ads on Chrome is by utilizing Chrome's default settings. Enabling Chrome's very own ad blocker won't stop all YouTube ads from running but this tool is still beneficial for limiting some ads from appearing. When visiting websites, Chrome's ad blocker tool helps prevent some ads, pop-ups, and irritating notifications from appearing.
Follow these steps to enable Chrome's ad blocker:
Sign into Chrome
Click the extensions icon on the top right corner of your browser window
Select Settings
Click on Privacy and Security on the left-hand side of the page
Select Site Settings
Scroll to the bottom where it says Additional Content Settings and select the down arrow
Click Intrusive Ads
Select Ads are blocked on sites known to show intrusive or misleading ads
When this feature is enabled some ads will still appear on websites you visit including YouTube. This is a step that will help prevent disruptive ads from showing as you navigate the internet on Chrome. It isn't the most effective ad blocker, specifically with blocking ads on YouTube, but it is worth having enabled.
Follow the steps below to enable Chrome's blocking feature for pop-ups and redirects:
Sign into Chrome
Click the extensions icon on the top right corner of your browser window
Select Settings
Click on Privacy and Security on the left-hand side of the page
Select Site Settings
Select Pop-ups and Redirects
Enable Don't allow sites to send pop-ups or use redirects
Keep in mind that these additional steps will not stop ads from running on YouTube. However, they can improve your online browsing experience. These settings work simultaneously with an ad blocker extension, working together to stop ads from disrupting your day. Having the Chrome settings on and an ad blocker extension downloaded onto Chrome (like Poper Blocker) are the best ways to stop ads from running on YouTube or any other website you browse. The quality of your online life will improve with just a few clicks.
Read More: How does Poper Blocker compare against other popup blockers?
Support your favorite YouTubers without watching ads
Many ads on YouTube exist because creators need them to make money. Watching and clicking on adverts that appear while watching a YouTuber's video helps YouTubers and their online career (if their account is monetized). However, many creators are aware of how intrusive ads are, so they have different ways for viewers to provide financial support.
Here are the ways that you can financially support your favorite YouTubers:
Making donations
Become a member of their channel for a small monthly fee
Buy merch
Sign up for the creators' Patreon
Click on affiliate links in the video description
Watch and like their videos, and subscribe to their channel
If you're worried that blocking ads will impact your favorite creator's brand, don't panic. You can turn them off and find other ways to support them. Downloading the Poper blocker extension to Chrome will not hurt the YouTube creators that bring you so much joy and entertainment. You are still able to give your support without being forced to watch and sit through ad after ad on YouTube.
We hope you found this article to be useful. Download Poper Blocker to your Chrome browser, take advantage of Chrome's ad-blocking features, or subscribe to YouTube Premium. Once you have followed the tips provided above to remove ads playing on YouTube you can start enjoying watching videos on your favorite video-streaming platform ad-free!

FAQs
Do ad blockers block ads on YouTube?
Yes, ad blockers remove YouTube ads. An ad blocker like Poper Blocker is a great extension to have downloaded onto your browser to remove ads on YouTube videos.
Can I watch YouTube without watching ads?
Yes! You can stop ads while you watch videos on YouTube. The best tip to block YouTube ads is to download an ad blocker like Poper Blocker.
Does YouTube Premium block YouTube ads?
Yes, YouTube Premium blocks YouTube ads. With a small subscription fee, YouTube Premium removes all ads from playing while watching videos.
Does Chrome's ad-blocking tool block YouTube ads?
Chrome's ad-blocking tool does not directly block YouTube ads, but it is a great feature to take advantage of when you are browsing the web. Chrome's ad-blocking tool removes some unwanted ads on websites and there is no harm in enabling it!